Cooler afternoons have finally arrived in southern Arizona; time for weekday after-work runs in Sabino Canyon again...
...and as I often take my iPhone with me, here are some photos, including this one that was published

in the Tucson newspaper

a couple of weeks ago:
The riparian canyon oasis is one of my favorite spots anywhere in Arizona; what's come to be 'home' just wouldn't be home without it...
...but the waters are dwindling. I took the above scene a few weeks ago, but the same spot looks like this now:
While there are still areas of flowing water, large stretches of the creek have dried up;
come on winter rains, come on...
But there are still plenty of opportunities for reflection:
Living in the desert, reflective scenes have become irresistible...
Days getting shorter, waters drying up...
=================================
The other day, while running in the canyon, I saw this guy:
Alas, smooshed on the road, but still quite a sight--was as long as my hand.
It's a scolopendra, a giant desert centipede.


They can eat rodents and snakes.
==========================
And my post-pneumonia lungs are, at last, approaching their pre-pneumonia state;
I'm finally able to run the entire length of the canyon again...
====================================
We had to go out of town at the beginning of the month,
trekking across the desert to California...
here's a stretch of the Sonoran desert west of Phoenix:
Vast skies, but oh so dry.
How good it is to live near Sabino Canyon,
near water, as meager as it may seem...
===============================
Recently, the good folks over at Perspective Correct
=============================
And one last thing--
some origami that a student of mine made: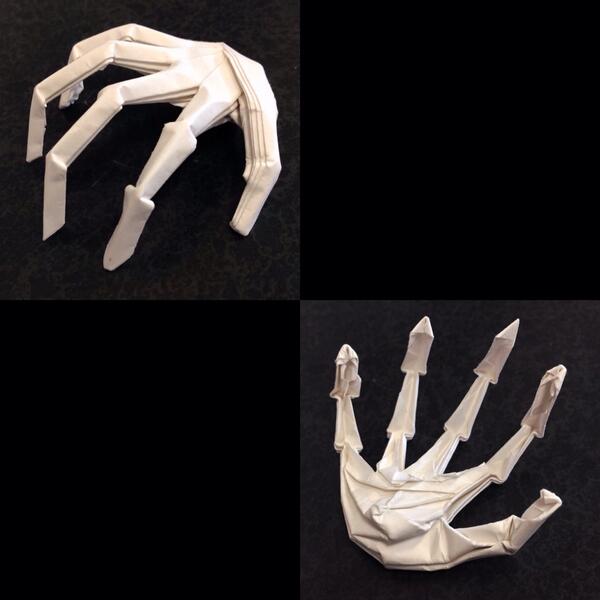 HANDS! --from ONE sheet of PAPER!
I was duly impressed.